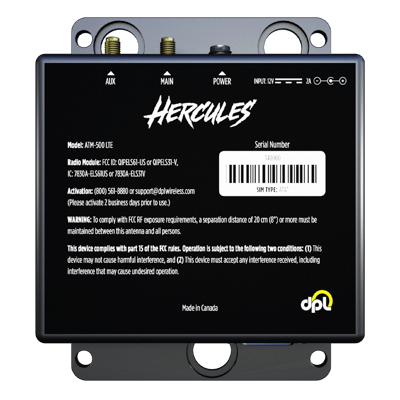 Rock Solid Hardware
Hercules modems are built to last, protected by a solid metal enclosure, and backed by a 5 year warranty. Purpose built for use in ATMs, every line of code is written by us, every hardware component is selected by us, and every Hercules is rigorously tested before it gets shipped.
This means:
Fewer failed transactions

Fewer RMAs

Fewer tech dispatch calls

Increased usage of your ATMs
Uptime is Everything
DPL provide 99.999% uptime - made possible via built-in intelligence and DPL's high availability network design. Hercules modems detect and auto-recover from issues that can occur on cellular carriers networks, and auto-failover between DPL's geographically redundant data centers if need be. DPL's proprietary communications protocol is specifically tuned for ATM transactions over cellular networks resulting in fewer failed transactions.
I would never consider using another wireless provider at this point. We have seen a revenue increase of over 20% at certain locations since switching to DPL.
Lenny Brotman
MBE Connect
Since I've switched to DPL, no more issues and usage is up! Best move I ever made!
Mike DiSalvia
R S Enterprise
Hercules Portal
Remote Management on Steroids
The Hercules Portal features built-in RMS functionality including the ability to view ATM service statuses and errors, perform RMS reboots, download Reg-E/Trace Request reports, view cash levels and forecasts plus so much more. We're constantly developing new features and functionality to provide as much value to our customers as possible.
Multi-Layered Security
DPL is proud to be a PCI Level 1 service provider. Hercules modems include several standard, built-in security features, including ATM link loss detection, MAC and IP address change detection. and the Hercules Shield modem features DPL's proprietary nTrap® Ethernet ports which are able to detect tampering even if power to the ATM is cut. Data from Hercules modems is transported securely over private networks via VPN to DPL's date centers.
24/7/365 Support
DPL's support team is the heart of DPL, taking on customer problems as their own and going above and beyond to solve them. DPL support works closely with the development and network operations teams and are equipped with deep diagnostic and troubleshooting capability. Available around-the-clock via telephone, email and chat, the support team uses a CRM based ticketing system to ensure resolution and continuity of service across agents.
Network Monitoring
Our network operations center (NOC) is the canary in the coal mine, often notifying business partners of issues before they become customer impacting. DPL's priority escalation paths with cellular carriers and payment processors allow us to troubleshoot and more quickly resolve issues on behalf of customers.